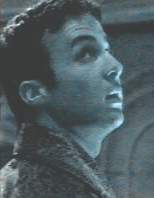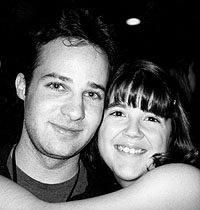 Strong with Little Willow at Posting Board Party 2000.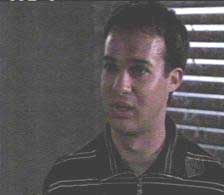 Jonathan prepares to take drastic measures in "Earshot".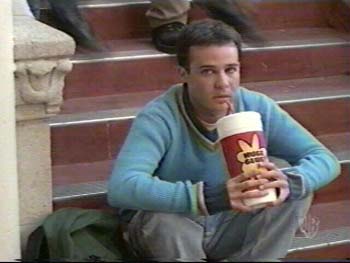 Jonathan with his very large beverage. Plus, we hear he's got a killer moped.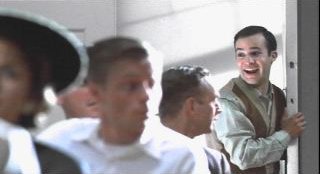 Pleasantville's Jukebox Boy.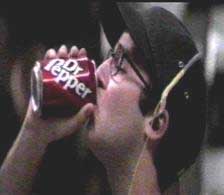 Strong as the Dr Pepper guy, blissfully unaware of the irate consumers outside as he chugs his soda.
Out of Earshot
The inside story on Buffy superstar Danny Strong.
by Little Willow
"I first met Danny at PBP 99, a gathering where worldwide fans from the official Buffy the Vampire Slayer posting board meet face to face," says writer and web designer Little Willow. "We discussed Jonathan, the coat rack, nametags and random little details. I'm also in the acting profession, and we clicked as buddies. I now run his official website, http://dannystrong.tripod.com/" As the woman behind Danny Strong's official site, Little Willow is the Buffy fan who knows the actor best, and she has generously given The 11th Hour this inside look at his life, his work, and his biggest Buffy episode to date, the upcoming "Superstar".
When I first saw Danny Strong on the Buffy the Vampire Slayer episode "Inca Mummy Girl", I knew I recognized him. I went into Net Girl Research Mode and discovered he'd done some episodes of -- prepare yourself -- Saved by the Bell: The New Class during its first few seasons. Admittedly, I watched the first show Saved by the Bell when I was younger, and would channel surf to the spinoff every so often.
But now Danny was Jonathan, short kid in the class, used by people such as mummy girl Ampata and leader of the pack Cordelia, quiet and often overlooked. My heart immediately went out to the character, who steadily developed throughout seasons two and three in a recurring role. I loved his cameos here and there, bits and pieces, and felt his character symbolized the every-kid: Out of place. Lonely. Feeling ignored. "I think he just wants people to like him and to be his friend," Danny explained to me in a recent interview. "His heart is in the right place, but he's very misguided." No matter what your status was or who you called your friends, everyone experiences those feelings in high school.
And in life.
Speaking of life, let's introduce you to Danny in a nutshell. Danny was born on June 6th, 1974. He grew up in Manhattan Beach, California, and went to Mira Costa High School. As a freshman, he began performing in school plays and was instantly smitten with the theatre. By the time he graduated, he had won the majority of high school drama festivals and received numerous scholarships to attend the University of Southern California as a theatre major. During his 4 years at USC, he performed in productions both on and off campus. In his sophomore year, he performed with the USC Rep. Company at the Edinburgh Fringe Festival, starring in the world premiere of Ray Bradbury's Something Wicked This Way Comes and You're a Good Man, Charlie Brown (as Snoopy). When junior year came around, he was nominated for the prestigious Irene Ryan/Kennedy Center Award. USC also honored him with the James Pendleton Award for Acting.
Danny started to acquire bit parts on various television programs and films. An episode here, a line there. Commercials. An episode of Boy Meets World, the aforementioned Saved by the Bell: The New Class part, and the role of Julian in feature The Prophecy II. When Clueless became a television show, Danny appeared as recurring character Marshall.
Major exposure started pouring in throughout 1999. He was Jukebox Kid in the critically acclaimed motion picture Pleasantville and the main feature in a national television commercial for Dr. Pepper. Those were all Danny's own dance moves, you see, as he boogied around the pointedly 23 hour store to the tune of "Are You Lonesome Tonight?" If you listen to the radio, you'll catch Beyond.Com radio ads featuring Strong as the rude clerk.
It is for Buffy the Vampire Slayer, however, that Danny has gained the greatest notice and acclaim. Though initially in the series' unaired pilot, Danny didn't appear onscreen in Sunnydale until the fall of 1997. What was supposed to be a gig for only a few times developed into a recurring role. The writers would keep calling him in to play a random student -- thus creating that focus of the everykid in Jonathan. It's such a hoot to see him pop up at all sorts of times, often eating food or clad in a striped ensemble.
But then came "Earshot," heard around the world.
Danny's greatest Buffy episode to date, "Earshot", was intended to air in April 1999. The show had overtones of threats and school shootings, and due to recent tragic events in Littleton, Colorado, the WB elected to delay broadcast from April to September. Though the move was often protested in Buffy circles, Danny agrees with the postponement, saying, "I felt that the subject matter was way too close to what had happened less than a week earlier, and it seemed totally inappropriate to air the episode at that time." He also adds, "I'm glad they aired it eventually though, because I think it is a really great episode that has some very interesting things to say." The episode reran in late February, creating more buzz for a certain season four episode...
Danny returns to Buffy the Vampire Slayer later this season in the episode "Superstar." Written by "Earshot" scribe Jane Espenson, it prominently features Danny in his recurring role as Jonathan -- but Jonathan has a new light shining on him. A spotlight. As this is Buffy the Vampire Slayer, you know there is going to be a twist. Though posters of Jonathan will be found up and down Main Street and "Meeting Jonathan Levinson" blazes across the theatre marquee, there's more to his newfound fame than meets the eye. Danny cites this episode, which just finished filming in February and is currently slated to air in April, as his favorite to date; smiling, he explains that "when it airs, you'll see why. It was actually the most fun I've had on any TV and film job. It's a beautifully written episode."
So what was his least favorite episode? He doesn't have one. His worst experience on the show, however, involved the second season episode "Go Fish" which detailed the Sunnydale swim team's metamorphosis into giant fish creatures. "In the scene at the beginning where I get my head dunked in the ice bucket, I got dunked about forty times, and it was freezing cold out," Danny explains. "We were on the beach in Malibu, and there was this slight ocean breeze that would rattle my wet head every thirty seconds. I ended up getting an ear infection and a really bad cold." Danny's favorite Buffy episode overall is "Hush", the episode based on silence and therein creepiness, penned and directed by show creator Joss Whedon. Danny wasn't in said episode but loved it, calling it "just brilliant."
Danny is the rare actor who can capture a wide and loyal audience despite his lack of a prominent starring role. His fans are dedicated, to say the least. In the fall of 1999, Danny was willing to answer over 50 questions sent in by fans about life, acting, writing, and even bowling, all the more proof that this guy is in tune with the audience he's reaching.
What's coming up for the Strong man? I Know What You Screamed Last Summer, a horror movie spoof still waiting for an exact release date sometime in 2000, features Danny Strong as Boner. The role is that of an American Pie-esque character who spends the entire film trying to lose his virginity. Two other WB names will be found alongside Danny -- Julie Benz (Darla on Buffy and Angel) and Majandra Delfino (Maria DeLuca on Roswell). Appropriately enough, the actress on the other side of the Slayage, Sarah Michelle Gellar, was featured in I Know What You Did Last Summer and Scream 2 -- two of the horror teen genre of the 90's that inspired the spoof.
While waiting for his upcoming movie and Buffy star turn, you can check out Perpetrators of the Crime on Cinemax. This is the movie in which he and another guy kidnap Tori Spelling's character. Other actors in the feature include William B. Davis, best known as X-Files' Cigarette Smoking Man.
Although his film and television career have certainly kept him busy, more stage work is always possible for Danny. I was able to attend two of his theatre productions in 1999 and let me tell you, you need to see this man on stage. His love of theatre really shone through in the six-character extremely dark comedy A Devil Inside, where Danny played opposite Linda Cardellini (Lindsay of Freaks and Geeks). Nearly as unsettling was his great performance in the play No Orchids for Miss Blandish.
When asked what other elements of the field he would like to try out, Danny replies, "I write now. It's actually a very important part of my life. I absolutely plan on directing, but that's way down the road." Right now, acting and writing continue to be his "primary goals."
From commercials to television shows, stage work to film, actor Danny Strong is certainly making a name for himself. It would appear there isn't any medium he can't handle as an actor, and I have every inkling that the same can be said about his writing and directing ability as well. This man can accomplish anything he sets his mind to. What can I say? He's modest, he's kind, but he's well on his way to becoming a superstar. In fact, in my eyes, he already is.
The 11th Hour would like to extend special thanks to Danny Strong for his participation in this feature. Be sure to visit his official website at http://dannystrong.tripod.com/