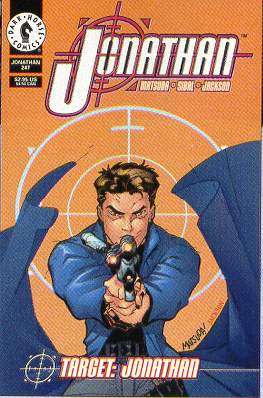 // Jane and I have made sure he has blue eyes this time. //
When watching the BtVS episode "Superstar," you undoubtedly noticed the Jonathan-centric posters, ads, cereal and more around the town. // And yes, the calendar, which Giles still claims was "a gift."
The wonderful folks over at Dark Horse Comics were asked to draw up something for the episode - not entire comics; just art for the item placement in the episode - and three amazing images were created. Big thanks to Jeff Matsuda; who drew the images and inked one of them; Jon Sibal, who inked the other two; Dan Jackson, who colored all three of them, and Keith Wood, who created the logo.
But that's not all! Now that Dark Horse has let the cat out of the bag, I am finally allowed to tell you all the big news. . . A Jonathan comic will be hitting comic book shops in early 2001. It was written by Jane Espenson, the scribe of episodes such as "Earshot" & "Superstar." This is no joke! The first Dark Horse ad about the comic was teasing to draw more attention to it. Once it became officially released information, I could spill what I knew here. [ Read the Dark Horse announcement. ]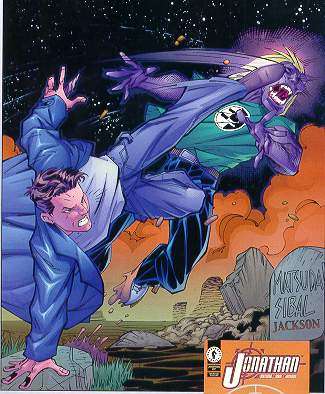 // This is the definition of hi-yah! //
// Levinson. Jonathan Levinson. //